daRoller Lands Exhibit Effectiveness Award at Modex 2020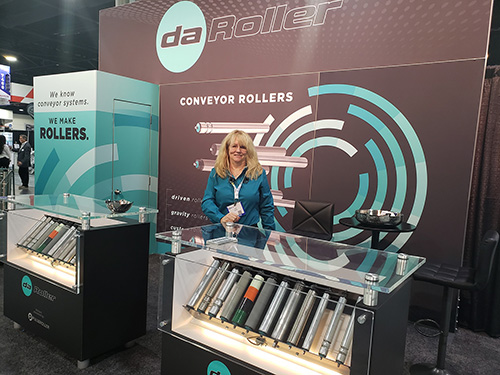 The daRoller trade show booth at Modex 2020 was recognized by the E3 Exhibiting Effectiveness Evaluation team as one of the most effective booths at the show. The show organizers provided the evaluations as a value-added exhibitor service.

The evaluators at the show were looking for exhibits throughout the show that displayed imaginative, creative, and effective ideas and practices. daRoller's recognition came in the area of effective visual communications. According to the evaluators, "Often, visitors will leave the area of an exhibit wondering, 'what does that company do, anyway?' da Roller's minimalist approach to color, graphics, and text provided attendees with the crystal clarity of what they do and what they would find at their exhibit."

The simple and effective theme chosen by daRoller at the show was, "We know conveyor systems. We make rollers." The company was started in 2014 to provide conveyor manufacturers with a quick and agile source of driven, gravity, and custom conveyor rollers. It is led and run by experienced industry experts who "strive to go above and beyond and do what others are not willing or able to do."

daRoller offers a line of driven, gravity, and custom conveyor rollers used by conveyor manufacturers across North, Central, and South America.